ORANG UTANS BEING WIPED OUT
Orangutans are being wiped out in Indonesia.
Fires threaten to 'extinguish' critical Indonesian orangutan population
/
Despite moratorium and investigation, fires rage in key Sumatran peat swamp
In Sumatra, in Indonesia, fires have been lit in Tripa peat swamp forest, to make way for palm oil plantations.
This could wipe out the world's densest population of orangutans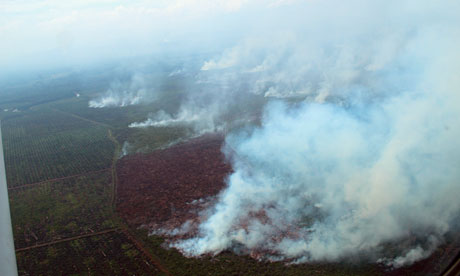 Photograph: SOCP/YEL
"
Environmentalists have lodged a lawsuit
against PT Kallista Alam, one of the five palm oil firms operating in Tripa, and Irwandi Yusuf, the former governor of Aceh, over the approval of a permit for the 1,600-hectare (3,950-acre) palm oil plantation."